Overnight Cape Point Hike
OPEN WITH COVID PROTOCOLS.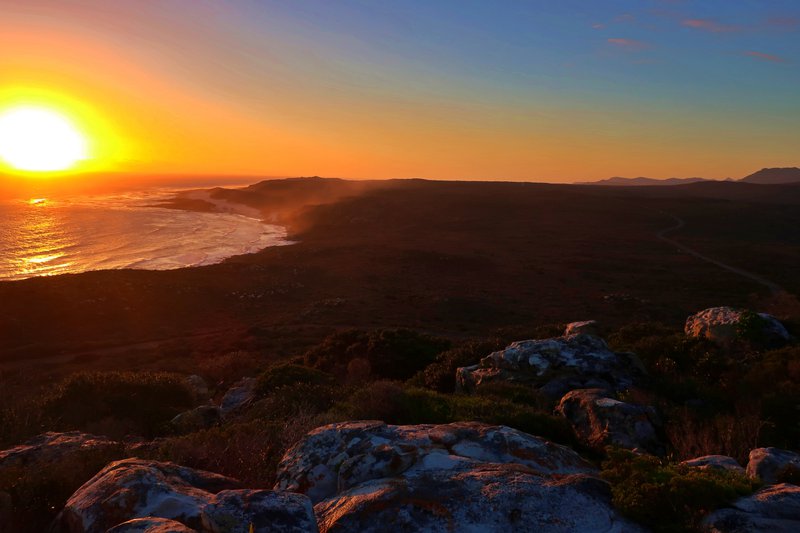 Walk into big view country
2 Day Cape of Good Hope overnight Wilderness hike
Carrying only each day's needs, with your dinner and bedding driven down to the huts, hike 34 kilometres (21 miles) of the reserve's diverse terrain in two days. It's cliff-top exploring and beach and rockpool ambles, then cutting through the reserve's most restricted part to walk out via inland restio fields, lake and more mountain.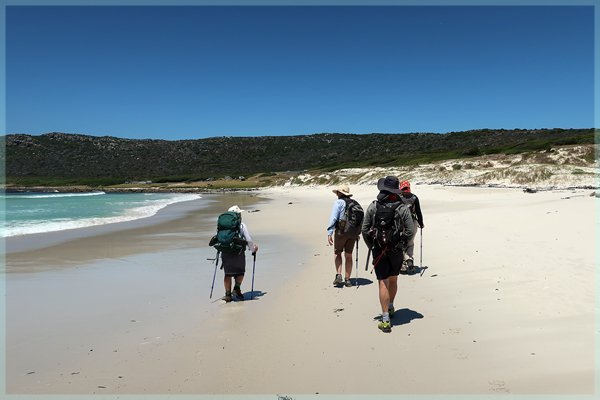 Day One
On the 14 km walk south, down the False Bay coast, you hike Judas Peak, skirt the side of great Paulsberg to reach the original old farm. In past centuries lime was produced here from sea-shells, and sent to build Simonstown and Cape Town. At its old spring there is an information centre, offices and a baboon-harried SANParks staff.
The info Centre is interesting, and a useful lunch stop. But in good weather it may be worth skipping it, and depart from the officially set route.
Rather, take the kloof leading down from Kanonkop to Booi se Skerm. Hike along the shore to tidal pools. Picnic and swim near the old slipway, where the lime was shipped out from.
Be Baboon Alert
Get ready to scramble in case local baboons raid. They move quickly, and one needs to first stash and secure picnics. Otherwise it could get messy.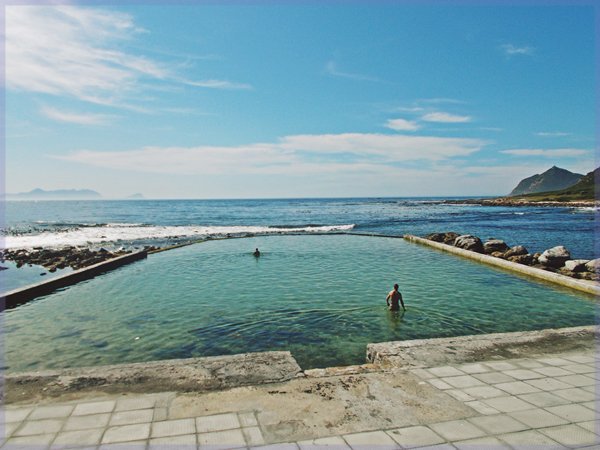 Then it's a two hour hike up to overnight huts on the side of Vasco da Gama peak. They are situated at the base of a WWII Special Signal Service radar station. Nearby are the ruins of lookout-posts that helped keep the Cape shipping route out of enemy hands.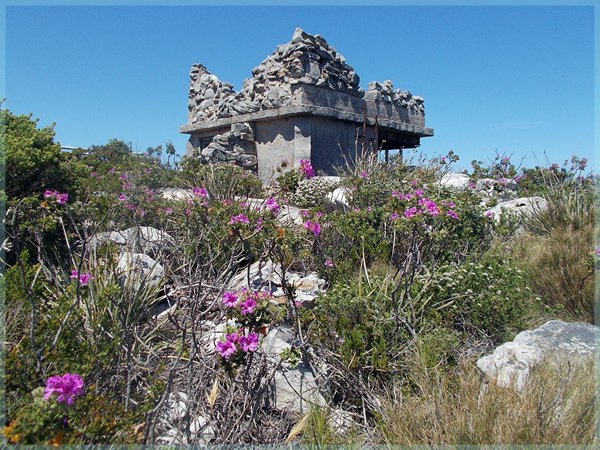 Accommodation
Depending on the group it can take five or six hours to reach the six-sleeper huts. With separate showers and kitchen, they're simple, sufficiently-equipped and comfortable cool-off spots to contemplate both that day's route and the next's. On clear days you can see all the way back to Judas Peak and beyond.
Later in the day you may be re-energised enough to head off down to Cape Point. Once the day-trippers have left you'll have the southern tip of the Cape Peninsula to yourself.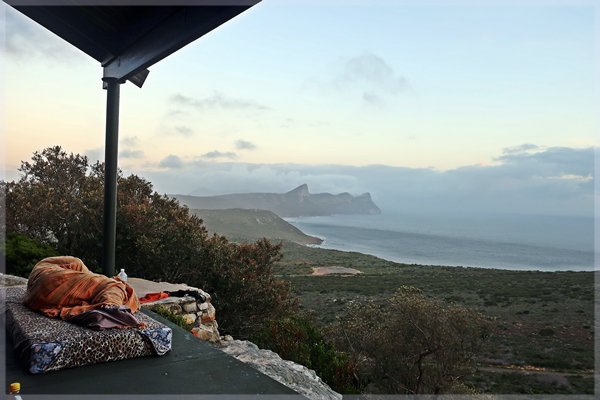 Day 2
From twelve thousand years ago until quite recently people have trod these shores in search of food. On the second day the trail hugs Mongoose Bay along some of those rich forager routes of old. Look out for middens and shipwrecks. There is often wildlife; the following photos are a sample of one morning's encounters: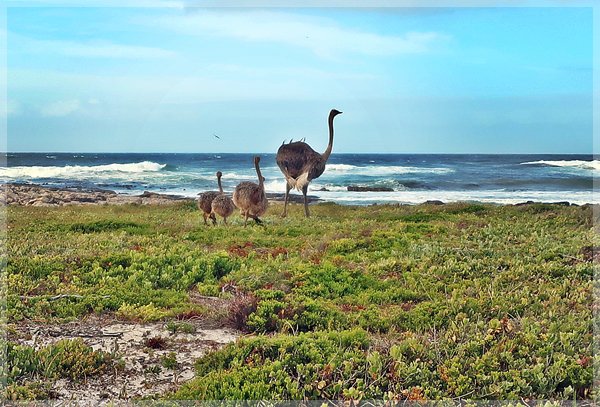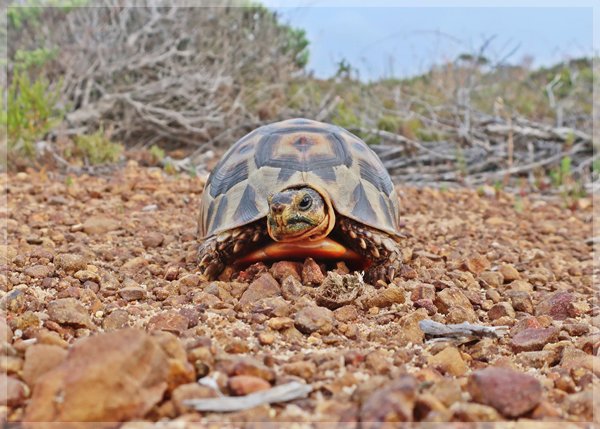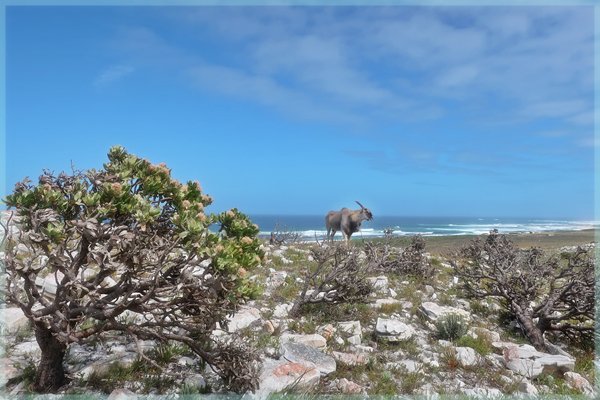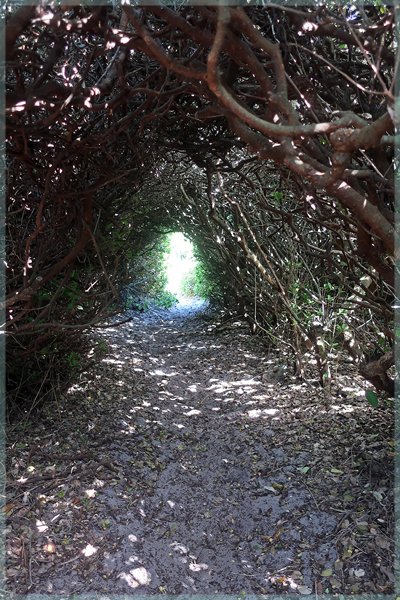 And that's just before lunch at Sirkelsvlei where in early summer of 2017's drought, an antelope contemplates the dry dust bowl of the old watering hole.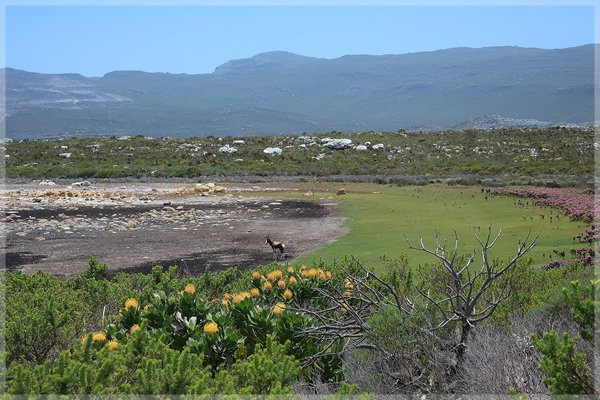 Then a climb over two rugged hills, and a last look back on the trek. Head back to complete the loop.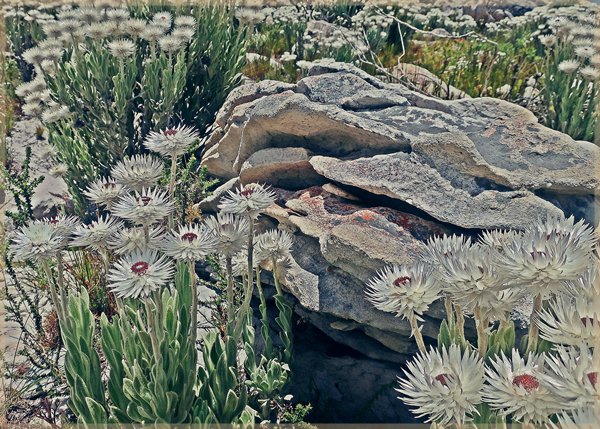 ---
Covid-19 protocols:
THE MAIN CONCERN IS THAT THE HUTS SLEEP 6 IN ONE ROOM.
I'D RATHER USE AS MANY OF THE OUTSIDE FACILITIES AS POSSIBLE, AND PACK A SLEEPING MAT TO SLEEP OUTDOORS - WEATHER PERMMITING.