Cape Town beach walks
The city offers a wide range of coastal rambles and guided beach hikes. 



Routes suitable for beginner hikers and nature lovers.




The list of Cape Town's beach hikes, swim and surf spots would be long. 
Three hundred kilometers of coastline stretch round the city. The warm Agulhas current flows down the east coast bringing tropical marine species. It mixes with the icy Beguela current that washes from the depths of the south Atlantic and up the west coast. A rich and varied marine flora and fauna has evolved. So too on land. And Cape Town has stretches of coast where the human foot-print does not dominate.     
At the top of the beach hiker's list ...

Cape of Good Hope Nature Reserve 
For all-round natural splendour, with a rich mix of leisure activities, visit the reserve about an hour's drive from the city centre. This is where Cape Point is. Fewer people know of its other great virtues.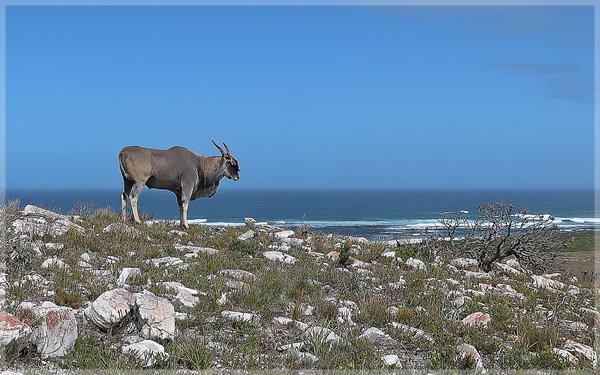 The Cape of Good Hope Nature Reserve has opportunities for beach walking and on coastal cliff-tops amongst wildlife and shipwrecks, and places to swim safely. Read more about hiking Cape Point here.

Urban coastal rambles close to the city.
Even zones of intense human settlement don't totally dominate nature. While the natural environment does take strain, walking the city's coastal districts offers a variety of interests. Sunset is a great time to hike the Atlantic Seaboard.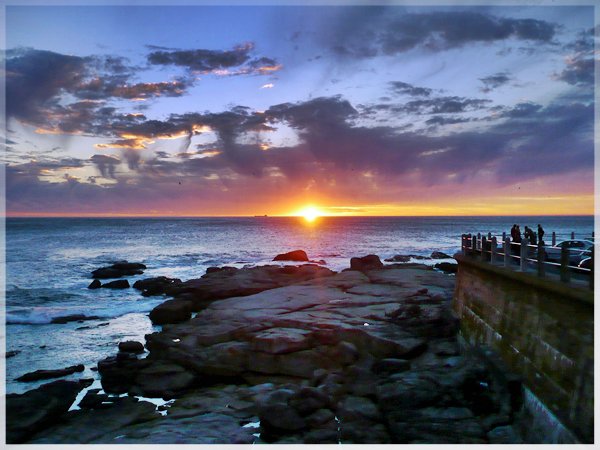 Clifton to Sea Point, and beyond.
To escape the prevailing summer wind, known as the Cape Doctor, (which in the old days cleared deadly plagues - as it now does the pollution) head to the Atlantic Seaboard beaches, like Clifton, Bantry Bay and Queens beach.
In the lee of Table Mountain's western flank they offer protection from summer's south-easter. The icy sea is an antidote to summer heat.
Clifton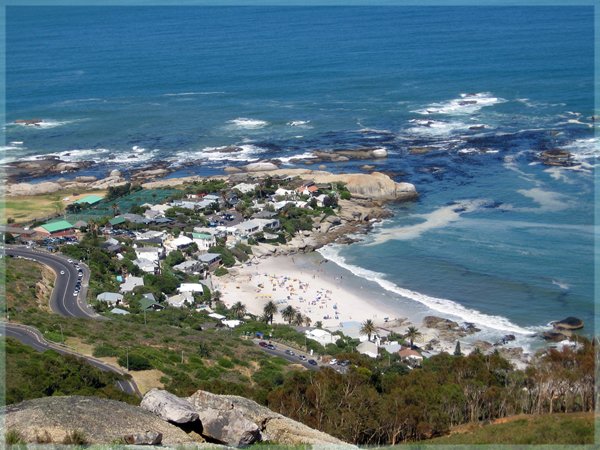 A walk from Clifton (pictured above)to Queens Beach in Sea Point is a urban coastal ramble of less than an hour. It could end with drinks or dinner at La Perla restaurant on Beach Rd - or a stop further down the strip.      

Clifton is a glamorous beach hangout. Banty Bay ( pictured below) and Queens less so, though these beaches are as lovely in their own local charms.
Bantry Bay & Saunders Beach.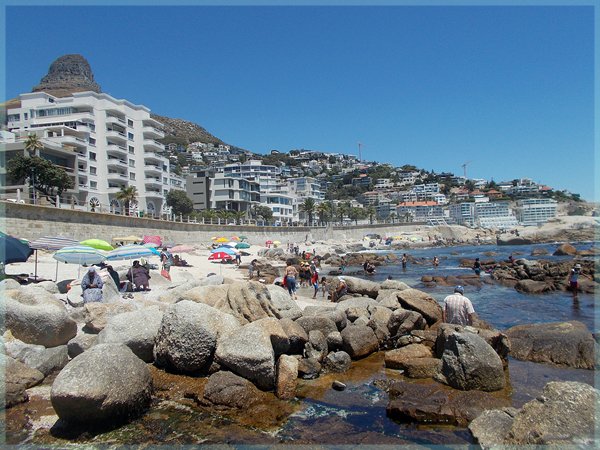 Walking between these beaches takes one from the sandy shores at 4th to 1st Beach Clifton, then up to Victoria Road for great mountain and ocean views. Often at Bantry Bay near sunset you'll hear informal evening sing-alongs near Saunders Rock, infusing the atmosphere with old Cape flavour.
Swim Off Saunder's Rock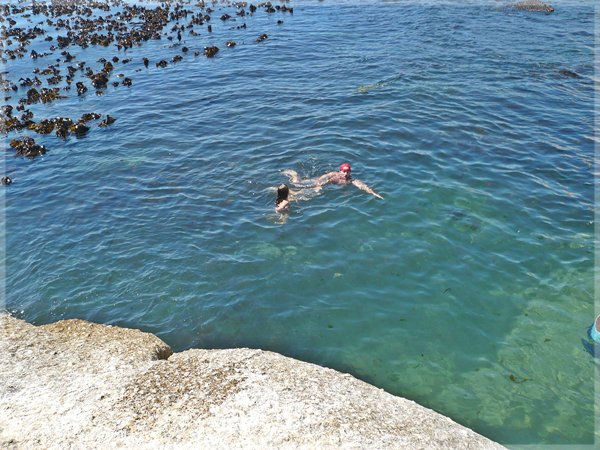 At Saunders you can clamber onto the huge granite boulder. From there, when the sea is calm, plunge into the kelp-strewn gully for a swim. But be careful. Check how low the tide is.  
Anemone Spotting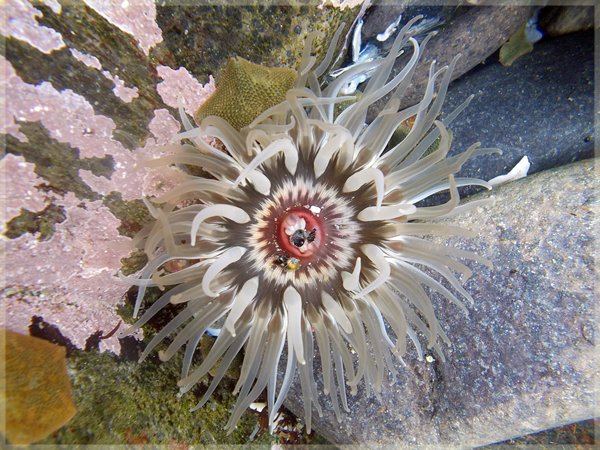 A highlight at Saunders are the anemone beds at low tide. They are the best I have seen in the peninsula. Also take extreme care when looking at them. This is where accidents can happen, especially at high tide or when there are rough seas. Go with someone in the know.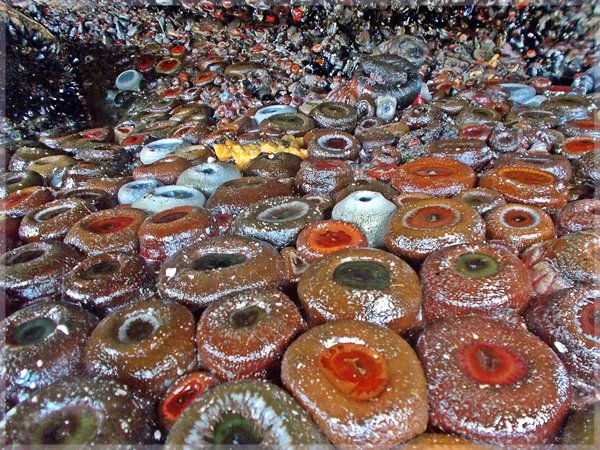 Queens Beach
The walk between Bantry Bay and Queens Beach takes you past a geologic site of historic significance. Rocky striations along the coast helped scientists, like Darwin when he called into the Cape in 1836, to understand how the earth is formed. Look for an information plaque there.
Queens Beach, named after the old Queens Hotel built in 1887, is the most popular of Sea Point beaches for sunbathing. It is quieter, with less passing traffic, and usually has convenient parking space nearby. Surfers can enter easily here at high tide.
Along the Sea Point Promenade you could hire a bike and pedal further.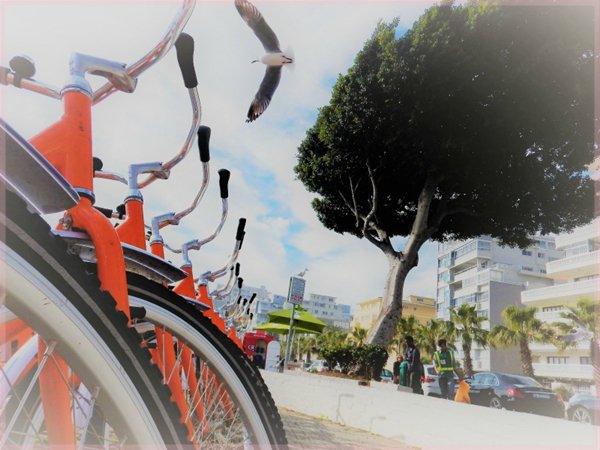 Or you could launch into Sea Point for a meal.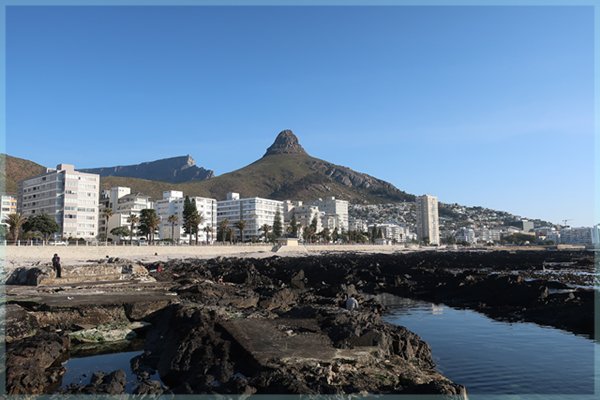 FOR KIDS
If you feel like strolling further, walk the Promenade. There are play areas, and an outdoor gym. You could go all the way to Three Anchor Bay and Mouille Point.  For kids at Mouille Point there is a toy train to ride, The Blue Train.
Then turn into explore the eco-park at the Green Point Urban Park below Signal Hill and near the stadium. The park has informative nature paths. There are great picnic spots near water, as well as a tea-room/restaurant and outdoor gym.